Vacu-Plate System Review
The NEW Router Vacu-Plate System from Oak Park was recently used in the production of Series 1200 of "the Router Workshop". See below for comments from Bob and Rick on this exciting new product!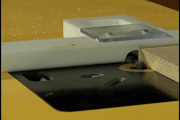 All episodes of the
Router Workshop
are available to watch online. This includes all
183
episodes which is over
75
hours of router & woodworking content.
Click here to learn more...
Bob & Rick's Review
The new Vacu-Plate System for the router is the first of its kind that in-fact is designed to work with a router table mounted. If you are concerned with dust made by your router in your shop this is a must have system. It has strategically positioned dust ports, no hose connections to your router fence and no hose connections to your router.
Here is how we see the above features:
This new innovation has dust ports that are inline with the router bit path. No other system can collect the router cuttings from the router bit tool path. Two dust ports are strategically located inline with the cutting action of the router bit, giving the Vacu-Plate System solid dust colletion performance.
There are no hoses on the table surface to connect or disconnect from the fence. This feature allows the set operation to be same as without the dust collection system. Your set up procedures do not change, with other systems you are impeded with the addition of the hose collection systems.
There are no hoses connected directly to your router allowing you to make all bit changes and set-ups without disconnecting or re-connecting the vacuum hoses to your router. Other systems require the dust hose to be connected to the router.
In short, this is the best addition to your router table since the innovation of the base plate more than 22 years ago. An easy recommendation for us, Bob and Rick Rosendahl of the Router Workshop