Our storage shelf unit had 12" x 80" x 3/4" uprights and five equal spaced openings. In order to cut the dado's and rabbets at either end we made this jig in a matter of minutes to hold the uprights.
We used 3/4" plywood 20" x 30" for the base and then screwed two strips of 1" pine to the plywood.
In the top strip that holds the two clamps we cut a 1/4" x 1/4" groove in the edge that the uprights will rest against. This prevents the dust from building up between the upright and pine and keeps the upright tight to the pine edge.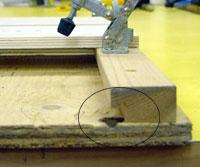 We used 1/2" scrap plywood for the cross support material. When screwed in place this leaves a 1/4" space for dust escape and allows you to slide the upright through the jig without restriction.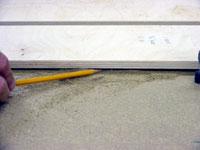 We spaced them 1" apart and used a 3/4" guide and a 1/2" spiral bit to cut the 3/4" wide dados.