The basic elements of a guide are the material type, inside guide diameter, the size of hole the guide fits into, the inside diameter of the flange and the outside diameter of the flange.

Material type and inside guide diameter:


The best guides are made of brass. The brass material gives the best locking qualities and is non-ferrous. The locking quality of brass helps to hold the guides in place throughout the process and the non-ferrous material is less likely to damage the carbide router bit on accidental contact.
Select a guide that will allow your router bit to turn freely in the guide.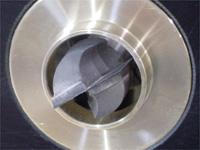 With the correct inside guide diameter the router collet and bit are allowed to get closer to the cutting surface of the project material, which also reduces tool chatter. NOTE: The guide needs to have an equal space all around the router bit, which puts the guide in the center of the collet. This type of guide needs to have a router base plate with the larger hole with pre-drilled mounting screws to ensure the guide is mounted on the center of the router collet.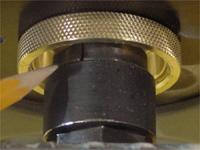 Flange diameter on the inside and outside:

The inside diameter of the guide flange is used to determine the maximum diameter of router bit that can be used in the guide. To find out which guide fits with which router bit you need to know the largest diameter of the router bit first then compare it with the inside diameter of the guide. Most suppliers of guides and router bits give this information in their catalogs. The size of your finished pattern can be determined by calculating the difference between the outside diameter of the guide flange and the large diameter of the router bit.