Set up tips:
Identify, divide and mark the amount of flutes required into the width of the board. We have set up the fixture to cut an odd number of flutes with a equal number of spaces. Find the center of the board and clamp the chute board into position. Make the cut for the center flute.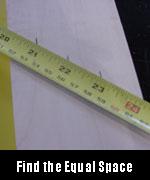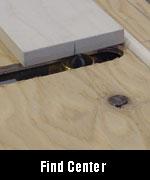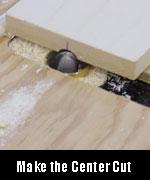 Make the first cut
on a shorter piece of test material of the same width.
CAUTION:
The round nose bit will want to push the board upward while cutting. Make sure to keep your hands away from the router bit and always use a pushstick. Cut all of the needed pieces at this fence position.
The next cut using the test piece:
Place the center cut on the spacer stick and reposition the fence to match the outside marks, clamp the fixture then make the next cut. End for end the board and cut the other side of the board.
NOTE:
make sure that the center cut is on the spacer stick for both cuts. Check the test cut, if the fence is in the right position drill and bolt the fence to the router table through the pre-drilled holes in the router table. If not the right spacing re-position, re-clamp and re-cut a sample piece. For five flutes we just repeat the process but use the outside flutes from the center flute to position the next two cuts.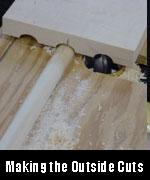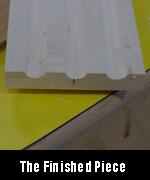 Above we have shown you how to make the set up for odd flute cuts with equal spacing. Here is the skill testing task: Outline the procedure to make 4 flutes with 5 spaces. The two challenges are 1) to build this fixture 2) figure the set up procedure for equal number of flutes and the odd number of spaces.