Keeping the height of the dovetail bit in the same position we now need to reposition the router fence to cut the sides to match. To make this set up we need to move the fence into a position where the dovetail is cutting into the side. Be sure this cut has the full profile of the dovetail bit.
To make this cut successfully it is important to keep the drawer side tight to both the router table and the fence. We use a safety block on the outside of the drawer side, which will help to keep it tight to the fence and your fingers clear of the cutter.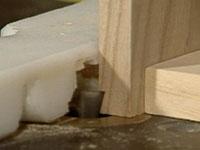 Make the cuts to all of the required sides. We now have a rabbet dovetail joint creating a lock joint that is stronger than a simple rabbet joint. When the finished drawer is assembled the sides should be tacked in place.