Use a 1/2" 14 degree dovetail bit in a table mounted router. Bolt the 3/8" spacer fence over the table with a 1/2" space between the fence and the bit. This space is measured from the bottom of the dovetail profile, not the tip. Set the height of the bit at approximately 5/16" so the slot will fit over the spacer fence.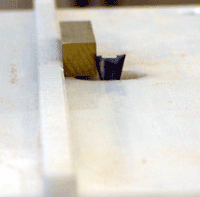 It will be necessary to drill another hole for the dovetail bit operation (predrilled in the Router Workshop Table Top). Remove the bolt in the end of the spacer fence closest to the operator. Tap the fence to the right and clamp in position as described above and run a sample. When you have the proper fit, drill a hole through the left side of the spacer fence and table.
Again, check your fit by clamping two pieces of 3/8" thick material together (make sure the bottoms are flush) and cutting dovetails in one end. To adjust the fit, raise the bit to make it tighter and lower the bit to loosen.
Once the fit is correct, you are now ready to cut dovetail splices. The two pieces will have to be offset 1/2" (the size of the bit).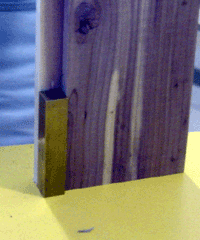 Lift the groove over the spacer fence and cut the next groove. Repeat this procedure until the dovetail slots are cut along the entire end.