Use 1" thick stock that will fit into the slot of the mitre gauge and cut your desired angle on the end of the block with a mitre saw. This will be your set up block.
Loosen the mitre head knob on the mitre gauge and place the 1" block into the slot.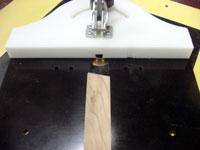 Slide the set up block tight against the mitre head and adjust the angle to match. Tighten the mitre head knob.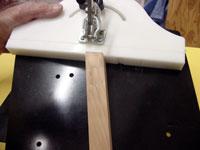 Chuck up a 3/4" straight bit in your router. Lock a 1" brass guide into the base plate and place the mitre plate over the guide. Use a brass measuring bar to set the depth of cut to 3/8".